My name is Terese King and I am 51 and from Glen Burnie.  I retired from the Coast Guard after 23 years of active duty bouncing all over the US.   I work the Coast Guard TECS Helpdesk and act as the auditor for all Coast Guard transactions run through the National Crime Information Center (NCIC).  TECS is a system used by Coast Guard units to run criminal history and background checks through the NCIC in the course of normal field operations. These transactions are required to be formally audited by the CG each year, and by the FBI every three years, to make sure all transactions are run in accordance with Privacy and Criminal Justice Information Handling policies.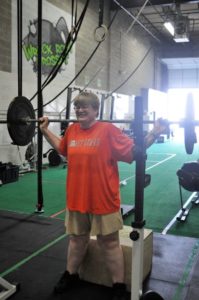 To be honest, desperation is what finally brought me to CrossFit :).  You name a diet trend, I've been on it.  While things seemed to work in the short term, they were essentially unsustainable.  I ride horses and that is my sanity check.  My weight was affecting my balance, stamina and ability to ride.  While I have tried gyms before, the ones I preferred were always a good 20-30 minutes away.  Wreck Room is nearby, only a 5 minute drive, which makes it much easier to access and therefore I am more likely to continue with the program.  The New You Challenge was the perfect introduction.  I figured I could do anything for 6 weeks and could always back out once it was completed.
My first impression I was a little hesitant actually.  I watched the video that was posted on the Facebook ad that announced the New You Challenge.  I can't say as I ever saw myself doing standard barbell lifting; it would be a first.  I was used to the "today" standard gym atmosphere and was surprised at Wreck Room.  One thing I like is the people.  Everyone, coaches, people; they are more friendly and approachable.  I don't get the sense of the haughty, "I am better than you," attitude I've seen and felt at other places.  I do what I can, push where I can, but don't feel guilty if I have to step it back.  There isn't a push to be the same as everyone else and do exactly what everyone else is doing in the way of weight or time.  Do what you can, do it right, do it safely, modify movements as needed, back off if necessary.  The improvement comes in increments as we saw in our benchmark tests.
The first goal I hit was to show up consistently.  Won't lie, a few days it was a tough sell.  I believe my first words to a friend of mine after that first night were, exactly, I am going to die.  As the weeks went on, however, it got easier and easier to the point that when I had to delay for a week before starting the regular CrossFit after the Challenge ended, I felt very stiff and just, uncomfortable.
The ultimate goal now is to be back at the same weight and fitness level I was when I left bootcamp roughly 30 years ago.  Granted I am pushing with joints 30 years older with the accompanying arthritic changes, but so far the program has actually helped.  Losing weight is always a positive factor for arthritic knees but I find I have more range of motion and less of the daily aches, as I also have better muscle support.    I am also working on better balance and core strength, both are critical in riding.
Currently I feel 1000% better.  Due to the commute and other factors, daily headaches were a given; those have ended completely since about three days after I started.  I am off all the supplements I was taking, Iron, Biotin, Vitamin E, and am sleeping a lot better.  My energy level, or maybe more, my stamina, has increased dramatically.
The biggest change is that I have a more positive outlook that I have found something that I know is going to work and that I can sustain.  I've also fully embraced Paleo and stick with it a good 90% of the time.  It is relatively easy to follow and I've gone out and searched for more Paleo recipes and ideas and have made things I never thought of before including making up my own ketchup and mayonnaise.   I don't get hungry and don't have the "munchy" cravings any more.
I liked the Cindy sequence and I like rowing.  When I row I picture places I've been stationed and row that area.  The only one I haven't tried as yet is going up the Mississippi River against the current. not sure I am up for that picture just yet.  I think it is almost unanimous that burpees are just torture in disguise. They look relatively simple but they are exhausting.
Start CrossFit for just $1 per day – CLICK TO GET STARTED