Sally loves barbells and Tony loves kettlebells.  Both are great but are they the best?
When we opened back in April of 2014 we started with a few thousand dollars' worth of equipment but it was great.  We were open and having a blast.  We had all the simple stuff; bars, weights, kettlebells, pull-ups bars, plyo boxes, etc.  As we grew so did our list of equipment.  Slowly came the med balls, rowers, bikes and more of the stuff we already had. New toys are fun and bring a new excitement to the workout but it is always short lived.  The novelty wears off.  It has been 3.5 years since we opened and the walls of the gym are covered with equipment that we use on a regular basis.  It's great having that variety but none of those things rank as the best and most valuable piece of equipment.
What if there was a machine that could change the way you use everything else in the gym?  A machine you cannot squat, press, clean, carry, throw or jump onto.  Sounds worthless, right?  When our Nutrition Program became the second largest program (after CrossFit classes) at Wreck Room it was a no brainer to pick up our very own Inbody Composition Scanner.
Oh man I wish we would have had one since the day we opened but it's never too late.  While the scan itself only takes 30 seconds the interpretation of the results takes about 10 minutes and is an absolute GAME CHANGER!  Do yourself a favor and sit with Coach Alyson as she goes through your sheet with you.  Your workouts will never be the same.  Not a member?  That's ok, no matter what your workout regimen is, this will help.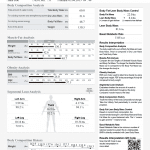 Numbers don't lie. Could you or someone you know benefit from a scan?  The answer is yes.  Let us help you.
Learn more about the scanner here.