MetCons are brutal!  I think we can all agree with that.  Always physically and many times mentally but they should never be emotionally brutal.  Being at the gym should not be the stressful part of your day.  Show up to escape the strain of everyday life, enjoy yourself and leave knowing you left it all on the floor and are one step closer to your goal.  Setting yourself up for failure can happen easily so avoid these three common mistakes to ensure a successful 8 minutes of torture.  Yes, you saw success and torture in the same sentence.
1 – "Sally did Rx weight so obviously I have to as well"
Obviously nothing.  Maybe Sally has 20lbs on you, more experience or that natural raw strength everyone wants for their birthday or Christmas.  Forget about Sally for a minute and focus on yourself.  If you are not sure if that weight is right for you, ask your coach.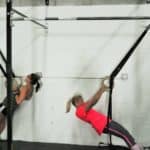 2 – "Last time we did front squats I used a heavy weight and if I can't today I am failing"
NOT EVERY WOD IS A PR!!!!!  Maybe last time you did front squats in a workout you were on 8 hours of sleep, ate well all day and had a great day at work but today you were so busy at work you hardly ate and showed up two minutes late for the workout.  Maybe there are more reps than last time.  Use WODIFY to add comments about how you felt to your performance results.  There is a comments box for everything so just jot down "Running on fumes so I went lighter" or "only ate an apple all day so I took it easy".  Next time you do front squats in a WOD and refer back you will know why you struggled.
3 – "I have to be at the top of the whiteboard"
So you have been doing the same level of weights for quite a while and it is starting to get competitive.  Your buddy worked out earlier or is right next to you and all you can think is "I'm gonna beat him no matter what it takes".  At what cost is the win worth it?  Are you sacrificing form in the last round or "miscounting" a few reps throughout just to stay even?  The whiteboard is not nearly as important as the integrity of your workout.  When you miss the squat depth, wall ball height, full lock-out on overheads are you counting those reps or redoing them?  When you shave reps other athlete will notice, coaches will definitely notice.
Start CrossFit for just $1 per day – CLICK TO GET STARTED